第八届国际长白山介入论坛 暨吉林省第十九届心血管病学术会议
---
会议时间 : 2018-09-14 - 2018-09-15
城市 :吉林 · 长春
举办地点 :吉林省长春市松苑宾馆
---
会议通知

  "第八届国际长白山介入论坛暨吉林省第十九届心血管病学术会议"将于2018年9月14日-15日在长春隆重召开。
  本次大会由吉林省医学会心血管病学分会、北京力生心血管健康基金会联合主办,中国医疗保健国际交流促进会医疗质量控制分会、中华医学会心血管病分会冠脉介入学组、吉林省冠心病介入质量控制中心、北京合众关爱心脏健康基金会、中关村精准医学基金会、吉林大学第二医院共同承办。大会秉承"规范、推广、提高"的宗旨,为心血管基础及介入诊疗规范发展提供交流平台,通过专题论坛、基层医师培训、讨论等多种会议形式交流学习最新进展、指南解读及热点追踪、介入诊疗技术、交叉学科、心血管护理、临床疑难及对策等。
  我们特别邀请来自国内外著名的心血管专家、学者、学术组织代表,讲解国际国内心血管疾病最新动态、先进企业分享创新经验、权威机构汇报管理心得,对每一个主题都进行深入探讨,精心准备的演讲必将引起大家的思想共鸣!
  博观约取,厚积薄发!我们希望通过不懈努力,共同促进我国心血管病学的学术发展。在此,我们诚挚邀请您参加本次大会!
  长春欢迎您!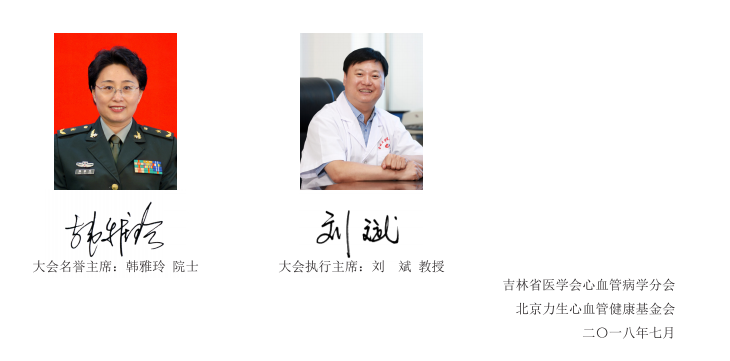 Welcome to The 8th International Changbai Mountain Intervention Forum
the 19th Academic Conference on Cardiovascular Diseases in Jilin Province
Dear friends,

The 8th International Changbai Mountain Intervention Forum and the 19th Academic Conference on Cardiovascular Diseases in Jilin Province will be held in Changchun from September 14th to 15th, 2018.

Adhering to the principle of "normative, promotion and improvement", the conference provides a communication platform for the development of cardiovascular basics and interventional therapy, and exchanges learning progress, guide interpretation and hotspot tracking through various forums, such as special forums, grassroots physician training and discussion. Interventional diagnosis and treatment techniques, interdisciplinary, cardiovascular care, clinical problems and countermeasures.
We specially invite famous cardiovascular experts, scholars and academic organizations from home and abroad to explain the latest developments in cardiovascular disease at home and abroad, share innovative experiences with advanced enterprises, and report management opinions from authoritative organizations. We will thoroughly discuss each topic and prepare carefully. The speech will surely resonate with everyone's thoughts!
We hope that through unremitting efforts, we will jointly promote the academic development of cardiovascular disease in China.
Looking forward to your participation!

Honorary Chairman of the Conference: Han Yaling Academician
Executive Chairman of the Conference: Professor Liu Bin
Beijing Lisheng Cardiovascular Health Foundation
Jilin Provincial Medical Association Cardiovascular Disease Branch
July 1818